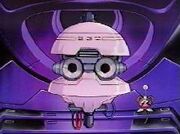 Yukinojyo is the name of Mihoshi Kuramitsu's spacecraft, as well as the artificial intelligence that operates it.
Ship History
The A.I. is always trying to help out Mihoshi, despite her bungling.
Voice Credits
JAPANESE - Hideyuki Umezu (梅津 秀行)
ENGLISH - Mark Tracy
Ad blocker interference detected!
Wikia is a free-to-use site that makes money from advertising. We have a modified experience for viewers using ad blockers

Wikia is not accessible if you've made further modifications. Remove the custom ad blocker rule(s) and the page will load as expected.