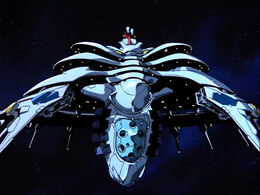 Sōja is an intergalactic spaceship created by Washu. Some time before the beginning of "Tenchi Muyo!", Kagato captured and imprisoned Washu in the alternate universe within the ship, and enslaved Ryoko and Ryo-Ohki.
In episode 5 of the OVA, Kagato kidnaps Ryoko again. Tenchi tries to rescue Ryoko but Soja destroys Ryu-Oh with Tenchi inside. Tsunami appears and resurrects Tenchi. Mihoshi infiltrates the Soja and releases Washu from inside. Tenchi fights Kagato and ends up creating the Light Hawk Wings for the first time. Tenchi proceeds to cut Kagato and Soja in half.
Sōja, Okayama
Sōja also refers to a city located in Okayama, Japan.
As of 2003, the city has an estimated population of 56,755 and the density of 295.20 persons per km². The total area is 192.26 km².
The city was founded on March 31, 1954. Although he was born before that, in 1937, former Prime Minister Ryutaro Hashimoto is said to be a native of Soja.