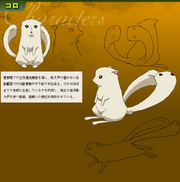 Koro (コロ

?

) is a creature from the spinoff Isekai no Seikishi Monogatari also known as Saint Knight's Tale and Tenchi Muyo! War on Geminar.
They are usually used as warning guards from enemies and dangers. It has been known that Kenshi looks like one of them from the girls nearby and students from Holy Land Academy.
They have a special affinity to Kenshi and his crystal. They tend to gather around Kenshi when he is nearby and when Ulyte performs tests on his crystal, possibly a Core Crystal, Koros swarmed together outside the room, covering all visual space outside the room's window .
Voice Credits
Ad blocker interference detected!
Wikia is a free-to-use site that makes money from advertising. We have a modified experience for viewers using ad blockers

Wikia is not accessible if you've made further modifications. Remove the custom ad blocker rule(s) and the page will load as expected.