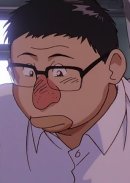 Katuhiko Amagasaki (尼ヶ崎 和彦) is a character in the Tenchi Muyo! series and appears in Tenchi Muyo! Ryo-Ohki and Tenchi in Tokyo.
Tenchi Muyo! Ryo-Ohki
Amagasaki's first appearance (and only speaking appearance) was in OVA 1, sometime after Tenchi returned to school following the episode involving a mummified Ryoko. Upon seeing Tenchi freak-out briefly upon mentioning a mummy, Amagasaki made the mistake of implying that Tenchi slept with one - and was a victim of one of Tenchi's rare shows of temper.
His next appearance came in a flashback on OVA 3. Amagasaki was moving to Tokyo, and having failed contacting Tenchi on the phone, he made the trip to Tenchi's house, only to discover he was living with five girls! Heartbroken, he relayed his story to Kamikura, with a final message, along with Ikeda - 'So long, traitor!'.
Tenchi in Tokyo
In Tenchi in Tokyo, Amagasaki has a larger role. He was one of Tenchi's friends when his grandfather Katsuhito Masaki sends Tenchi to Tokyo in order to train as a kannushi at a shrine run by a friend of Katsuhito, Dokuzen Tsuchida. He was also one of Tenchi's classmates, along with Dokuzen's grandson and Sakuya.
Voice Credits
Ad blocker interference detected!
Wikia is a free-to-use site that makes money from advertising. We have a modified experience for viewers using ad blockers

Wikia is not accessible if you've made further modifications. Remove the custom ad blocker rule(s) and the page will load as expected.