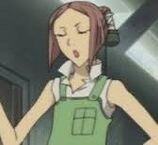 Jozzy is one of Hannah's assistants, and is charged with laundry and room service duties at the Holy Land Academy in the Holy Land and works for the Headmistress. When Kenshi was assigned to work with her, she was doubtful about his abilities. However, the speed of his work, was well as his proficiency, gives Jozzy's superiors good marks about her.
Voice Credits
Ad blocker interference detected!
Wikia is a free-to-use site that makes money from advertising. We have a modified experience for viewers using ad blockers

Wikia is not accessible if you've made further modifications. Remove the custom ad blocker rule(s) and the page will load as expected.