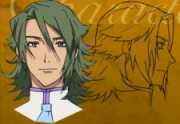 Cliff Cleese was one of Dagmeyr's top three male Seikishi pilot recruits, along with Neil and Alan, for his father's attack on the Holy Land. He was later killed by Kenshi after his failed plan to use Ceres as a living bomb to kill Kenshi. His Seikijin was green and purple and used a shield and gunblade for combat. 
Voice Credits
Ad blocker interference detected!
Wikia is a free-to-use site that makes money from advertising. We have a modified experience for viewers using ad blockers

Wikia is not accessible if you've made further modifications. Remove the custom ad blocker rule(s) and the page will load as expected.