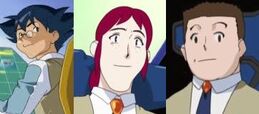 Alan, Barry and Cohen are three recurring characters in Tenchi Muyo! GXP. These three made their appearance in the second episode. All three of them were on board the G.P. cruiser that had picked-up Seina to transport him to the G.P. Academy. It was during the trip that they ran into Ryoko's ship, where they immediately "surrendered". It turns out that the three are rabid fans of the space pirate, but were crushed when she took a liking to Seina. From that point forward, the three would be found from time-to-time, either with the G.P. or the Daluma pirate guild. They even served on board Seiryo's ship Unko.
Voice Credits
Alan
JAPANESE - Jun Fukuyama (福山 潤)
ENGLISH - Marvin Lee
Barry
JAPANESE - Kouichi Nagano (永野 広一)
ENGLISH - Kirk Thornton (credited as Ron Allen)
Cohen
JAPANESE - Yusuke Numata (沼田 祐介)
ENGLISH - Dan Egrol
Ad blocker interference detected!
Wikia is a free-to-use site that makes money from advertising. We have a modified experience for viewers using ad blockers

Wikia is not accessible if you've made further modifications. Remove the custom ad blocker rule(s) and the page will load as expected.